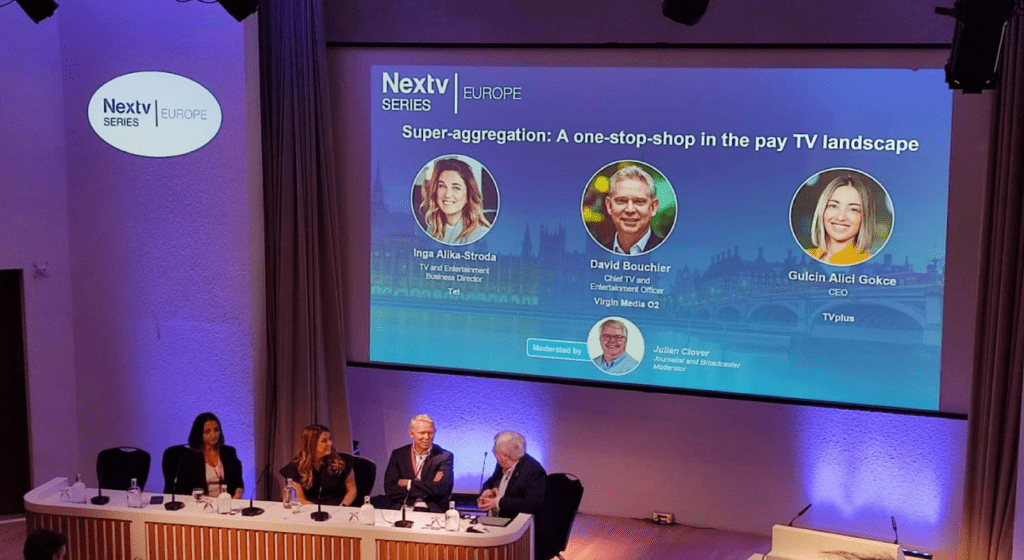 The 9th edition of Nextv Series Europe closed Dataxis' cycle of European conferences for 2023 in London last week. 200 business executives gathered at the Royal College of Physicians for a 2-day cycle of panel discussions during which operators, broadcasters, streamers, content owners and tech vendors discussed hot topics of the regional media and entertainment industry.
Super aggregation as the answer to content fragmentation across the European media landscape
Fragmentation across the European media and entertainment landscape explains the fierce competition in local markets and the multitude of actors that are operating platforms and distributing content across the region. Historically, European media groups were structured on a country level, based on local cultural specificities and national languages. Thus, rather few consolidation has happened in the TV broadcast industry, and only a few selected actors operate across borders like RTL and MediaForEurope. On the pay TV distribution side, several telcos operate services on a regional level but the competition remains fierce and each market counts at least 3 tier-1 actors, up to 5 or more in the most dynamic markets.
In this context, finding a differentiating market position is key for both content owners and TV platforms. One keyword often came back across the conference's panels: "aggregation". Virtually all European telcos have started aggregating streaming platforms in the last decade, and the rise in collaborations between them and a growing number of apps and streaming services prompts a thorough examination of how this model benefits both parties.
As David Bouchier, Chief TV and Entertainment Officer at Virgin Media O2, put it: operators have a relationship with end customers through their connectivity services, through long-term and often multi-year contracts; they have a relationship with the big screen in the household and they also are ensuring the relationship with content providers. Nicola Goff, Head of TV Partner Propositions at Sky, also emphasized the importance of bundling to drive better customer retention and improve churn profiles. A return of pay-TV bundles is being set forth by TV operators integrating an ever-growing number of partnering apps and streaming services.
Being among the latest entrants in the European streaming landscape, Paramount+ is a prime example of how streamers can leverage local partnerships to rapidly gain reach by benefiting from well-established telcos' footprint. Antonella Dominici, SVP of Streaming South Europe, Middle East & Africa at Paramount, highlighted the challenges of entering an already saturated market, leading them to focus on delivering high-quality TV shows with their partners.
Integration of partners still poses significant technical challenges, especially as operators and TV platforms aim at giving the best possible experience to end users in their ecosystem. Enabling metadata integration is key to supporting advanced features like content discovery and personalized recommendations. The abundance of content on each platform requires lots of effort and a coherent cross-platform approach, to promote the relevant titles to end viewers. Collaboration is thus entering the realm of metadata, especially as streamers will likely have to shift away from keeping their valuable datasets on their walled gardens, in order to better understand their competitors but also under the pressure of the latest industry development. This was also among the recommendations of the content industry strikers in the USA.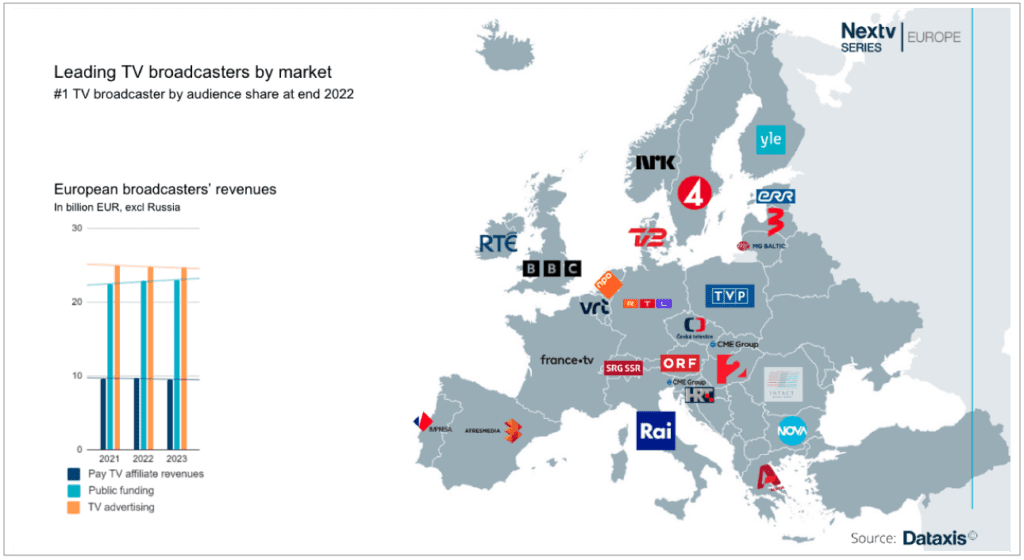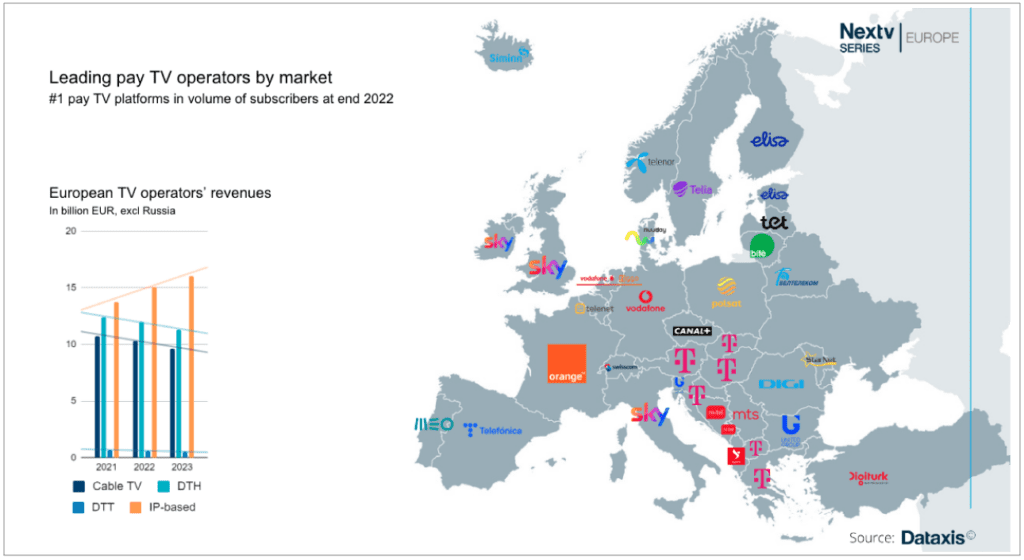 Who will control the screen? The battle of relevance between devices
Aggregation opportunities also go beyond video, and new opportunities arise in areas like cloud gaming on CTV. The question remains on which devices will enable the aggregation of this multiplication of apps: are Smart TV already leveling up the playing field with the most advanced set-top boxes out there?
European actors have ambivalent positions when it comes to choosing between an app-focused distribution or keeping their services on set-top boxes. Deutsche Telekom decided to migrate its services to IP-only products already several years ago, and now operates a fully unicast approach, to take advantage of a network-agnostic strategy on distribution networks. Technically, this also enables them to simplify the integration process of new features across their regional parc, as well as leveraging scale effects on both hardware and software. The question is rather on why operators still need set-top boxes, and the most shared opinion is because their aggregator's position requires them to be the enabler of apps, and not to be just an app among others.
Some operators thus still consider the set-top box to be a key part of their service proposition. Fabrizio Campanale, Senior Director of Entertainment & In-Home Connectivity Platforms for Sunrise UPC, refers to the STB as an "aggregator of experiences", key to offering added value services. Similar perspective for Frank Rippl, Head of TV Product for Vodafone, who emphasizes it as an enabler for apps beyond TV & video, like music and gaming. "The set-top box remains the media center in the living room", and OTT is rather considered to be a companion to it than a substitute.
If the overall viewing experience and aggregation capabilities of CTV OS are rapidly expanding for the best, all European households are not necessarily equipped with devices that can support Smart TVs' latest features and innovations. Meanwhile, set-top boxes still enable operators to leverage consumer data over up to a decade.
Nevertheless, audiences are shifting away from linear channels and this impacts operators' device strategies. According to Inga Alika-Stroda, TV and Entertainment Business Director for Tet, less than 1% of their new customers chose an option with a box, thus the large majority are simply using apps on their CTV. This creates opportunities for TV & entertainment platforms to work with CTV manufacturers, for example on common marketing campaigns. Hybrid approaches can also gain success when trying to appeal to different audience segments: Gulcin Alici Gokce, CEO of TVplus, brought up the example of their recently launched hybrid IP box, that can also be used as a TV stick in secondary houses.
Monetizing content services: is this the end of the subscription model's golden era?
2023 has witnessed the launch of several streamers' ad tiers, coming from initiatives first launched in the USA and getting slowly replicated across European markets. Netflix launched its ad tier in Europe top 5, with mitigated results so far. Disney+ launched in early November and Amazon Prime will follow suit next year. But what about local players? And are those evolutions a sign that subscription-based models are not sustainable on their own anymore?
Local content in Europe is still the competitive edge of national broadcasters and their digital services. BVOD services in Europe have a significantly higher proportion of local content than their global competitors, and this explains their resilience and ability to keep high positions in national streamers' rankings. Content is put forward as the main asset to attract viewers on a platform, with a strong emphasis put on having a constant stream of fresh and high-quality content, putting forward local stories that are more appealing to end viewers' sensibilities thanks to relatable narratives and settings.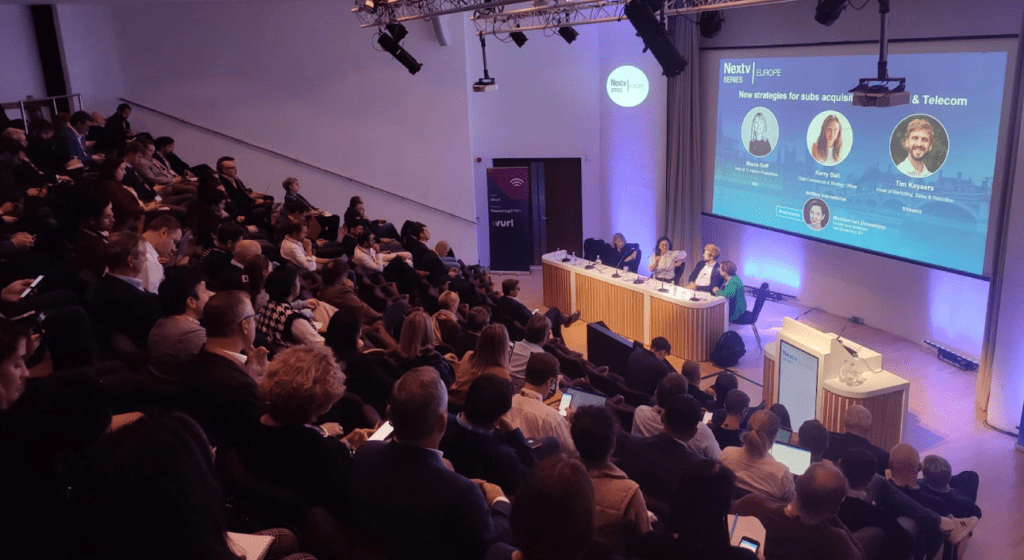 From left to right on stage: Nicola Goff - Head of TV Partner Propositions - Sky / Kerry Ball - Chief Commercial & Strategy Office - BritBox International / Tim Keysers - Head of Marketing, Sales & Retention - Streamz / Monique van Dusseldorp - Curator and Moderator
But as the whole industry is very much aware, content creation is extremely expensive, and finding sustainable business models is crucial to retaining the value of content itself. With the fast rise of Netflix in the last decade, investors and content owners alike were betting on ad-free subscription-funded platforms to monetize their assets, and shortcut operators by launching their direct-to-consumer approach. But as the slow return towards aggregation suggests that operators can still leverage their long-lasting experience of the DtoC segment, the resilience of local broadcasters and their return to ad-funded propositions also suggests that they can leverage their key position on advertising markets to support their transition towards digital.
Several European BVOD platforms shifted back to a focus on advertising in recent years. As Ross Appleton, Director of Operations Streaming at ITV, put it, SVOD is not the highest value generator. The rebranding of ITVX reflects this strategy of building a new ad-funded TV model within the digital world by replicating their strategy from linear. Another key aspect is that churn becomes a much less relevant metric in a free environment: if viewers churn down to the free version of a platform, audiences can still be monetized through advertising and remain in the funnel.
As CTV manufacturers get into the content distribution segment, they become new actors in the advertising space. One asset that has garnered much attention following the strong uptake in usage and equipment of connected TV sets in the last few years is FAST channels. Alex Kisch, EVP Business Development & Affairs and General Counsel for Vevo explained that half of the video service's revenues are now coming from CTV, a big jump from less than 10% three years ago. Meanwhile, Rakuten TV is now reaching 140 million households on CTV, and half of the streamer's income comes from advertising, a significant shift from its legacy transactional VOD model.
As mentioned by Shaun Keeble, VP Digital of Banijay Rights, FAST complements other revenue streams without having to move away from licensing. Instead, it focuses on creating new channels to capitalize on rights that are currently inactive, effectively leveraging content owners' extensive library. This inclusion in the revenue mix serves as an additional source of income for distributors from a broader group perspective. It's a strategic move that takes into account the incremental revenues generated, all while maintaining a mindful approach to costs. In essence, FAST channels contribute to the overall revenue strategy by tapping into existing content resources and optimizing revenue potential.
As competition intensifies in the OTT landscape, and a vast majority of European viewers are already equipped with several streaming services, the focus is shifting away from growing in volume and increasingly turning towards finding the right way to monetize content. Being able to operate a sustainable business model and secure the value of the content industry is a collective responsibility of both content owners and distributors. And with the DtoC model showing signs of faltering, strategies evolve in two clear directions: pushing for more collaboration and deeper integration with aggregators, and opening new revenue streams that effectively create hybrid and more flexible business models.
All these challenges (production of local content, monetization, delivering personalized content discovery experiences, targeted advertising) were discussed at Nextv Series Europe, which took place on November 6th and 7th 2023 in London. You can find all these discussions on the YouTube channel and the website.