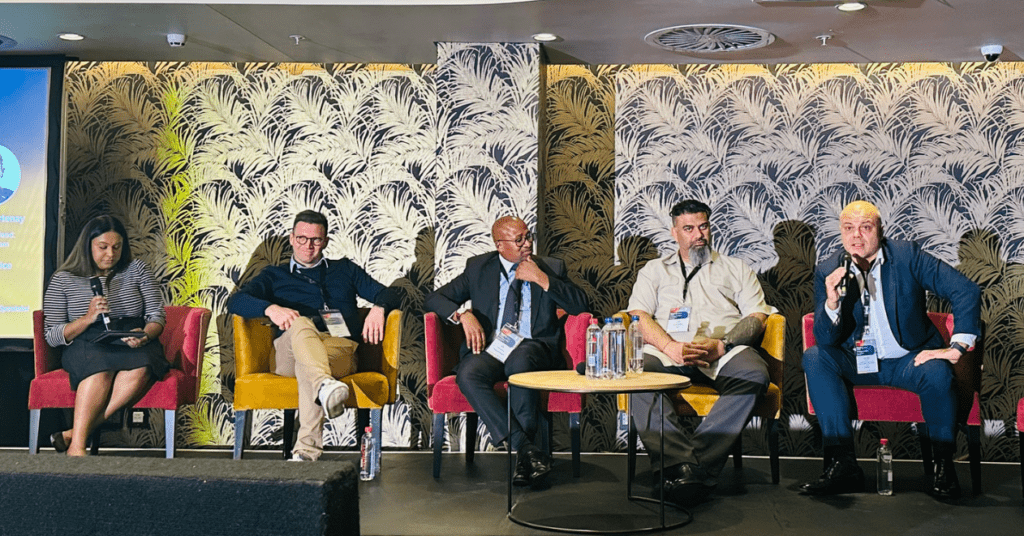 On stage, Christoph Limmer - Senior Vice President at Eutelsat, Daniel Coutenay - Executive Head DStv Stream for Multichoice, Joel Thuto - General Manager of Botswana Television and Merlin Naicker - Group Executive Video Entertainment at SABC debated the future of television and OTT in sub-Saharan Africa.
"Linear TV is still growing" stated Merlin Naicker during the latest edition of Nextv Series Africa in October 2023.
While the strong rise of OTT might have led some to believe that traditional linear TV would lose ground in Sub-Saharan Africa, all the speakers agree that linear television is not doomed to disappear. Thus, how are TV and OTT evolving and co-existing in SSA and what are the expectations for the future?
State of the TV market in SSA: the combination of satellite and terrestrial
In the region as a whole, all consumption of content is growing. Although linear TV remains a popular way of consuming content, the transition to DTT and the analog switch off has weakened the model in some countries. Pressure imposed by the ITU deadline has sometimes led some countries to cut the signal before terrestrial coverage is complete.

"At SABC, we saw a decline of 20% of our reach into the 5 provinces that have switched off and we've got four more provinces to go" points out Merlin Naicker. The digital transition is not only costly, but it also needs time to set up the necessary infrastructure and provide users with the right equipment. Therefore, satellite remains important when it comes to linear television.

Christoph Limmer, Senior Vice President of Eutelsat, believes that "there are not lots of countries, globally, where you can reach 100% of the population only with the terrestrial". As a satellite operator, for 15 years, they "have been providing a hybrid solution: roll up the terrestrial signal to a certain point and complement it with the satellite." Indeed, what emerged from the panel Redefining broadcaster partnerships for the streaming age, was that satellites appear to be the easiest solution for providing a television signal to the entire population.
They overcome the main obstacle involved in a region like sub-Saharan Africa: remote areas with difficult landscapes where it becomes too expensive to set up cables, terrestrial networks and internet infrastructure. Through satellites, operators can deliver a wider coverage at a lower cost, not only in terms of infrastructure but also in terms of equipment for the local population.
Traditional TV and OTT to co-exist over the years

And yet, everyone agrees that OTT is gaining ground. Indeed, Joel explains that "the audience needs content but they consume it through very diverse ways." OTT makes sure that broadcasters can retain the market or attract new customers. Not only OTT allows broadcasters to be much more granular but also consumers to free themselves from the time constraints of linear TV. The challenge for broadcasters is to have the right mix of content that allows them to give better opportunities on the OTT space while still being relevant on linear television.

OTT is not developing at the expense of linear television. "All customers that are coming to the streaming world are new customers. The volume of people migrating from DTH to OTT is not material. There will be a shift as infrastructure becomes better but I don't think one will replace the other." claimed Daniel Courtenay from Multichoice. Just as DTH and DTT are complementary, so are linear television and OTT. The challenge is to attract enough of an audience to last. Content is king, whether it is on TV or OTT platforms. That's why, as Joel Thuto explains, it's important to understand target audiences.
Devices and data are key factors for the future
Audiences are chasing good content and advertisers are chasing audiences. Data analysis is therefore crucial for all the actors to adapt their strategy and offering. The current situation already allows a certain amount of data to be analyzed when content is consumed on an OTT platform via a mobile phone or other device. Even satellite operators are working on satellite analytics technologies to provide broadcasters with statistically relevant data in terms of linear TV consumption. In reality, much depends on the device on which consumers access the content. Merlin explains that today, most Africans consume content on their mobile phones. It already provides a certain amount of information on consumer habits.
The likely development of infrastructures in the future, such as fixed broadband, and a decrease in prices may allow the spread of new devices for accessing content. Christoph Limmer believes that "smart devices are key when you speak about data measurement" as they will give services direct access to consumers' behaviors. That's why, Joel Thuto explains that "as devices are becoming more affordable, there is a huge potential for broadcasters and OTT platforms as long as they make sure they keep up with the technologies and are available on all the devices". Indeed, in some countries, the penetration of smartphones has reached half of the population such as in South Africa (66%) or Kenya (51%).
He also added that what's important is not only to tell people their own story but also to "present it in a way that will attract them". That's why, the focus, according to Daniel, is also on improving the user experience, whether on TV or OTT through content discovery, PVR decoder, Cloud media or even AI. In a nutshell, the most important challenge remains to understand the audience actors are targeting to propose the most relevant content and user experience.
All these challenges (production of local content, fiber deployment, delivering personalized content discovery experiences, targeted advertising) were discussed at Nextv Series Africa, which took place on 4 and 5 October 2023 in Johannesburg. You can find all these discussions on the YouTube channel and the website.