On Tuesday, November 17th, Dataxis hosted the first day of his 2020
Nextv Series Europe 
event. Few months after the first release of our figures assessing the AVOD market in Europe, North America and Latin America, it was the occasion to gather some of the major actors of the European AVOD market to discuss the opportunities for content providers, the current situation of the AVOD landscape, and the technological challenges to overcome.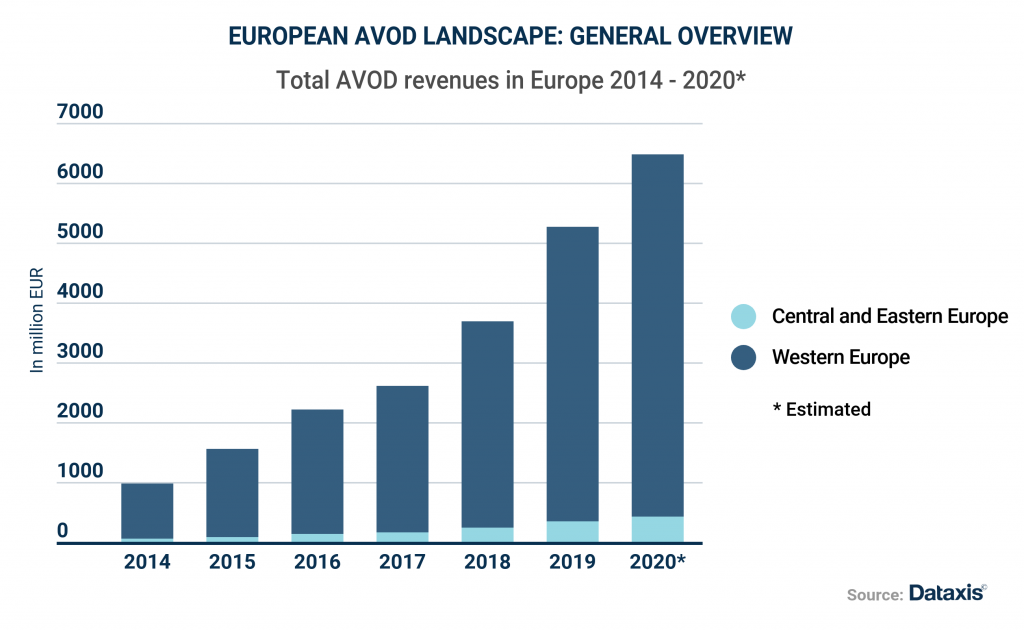 The European AVOD market has faced tremendous growth in terms of revenues over the last six years. Despite a significant diversification of both the offers and the players all across Europe, the Western countries -UK, France, Germany, Italy and Spain on top of them- keep concentrating the major share of revenue streams, accounting for more than 90% of the total European AVOD revenues in 2020.
Over the last decade, those markets have been relying on the increasing amount of content offered by domestic broadcasters, the launch of pan-European AVOD services and, more recently, the entrance of US players, already successful in their home market, backed by the vast catalogues of content provided by their parent companies - ViacomCBS, Discovery and soon, WarnerMedia and Comcast.
This nascent interest for AVOD has been attracting a growing number of actors from the European TV and streaming landscape, eager to diversify their revenue streams in a context of declining TV advertising revenues, and with a more and more competitive SVOD market.
PROVIDING A SEAMLESS TV EXPERIENCE TO ATTRACT ADVERTISERS AND RETAIN USERS
For Philipp Rotermund, CEO of Video Solutions AG and Founder of Watch4, there is no doubt a shift has occurred in the last four years, both from advertisers and right owners. Mainly consumed over the TV screen, the AVOD content is increasingly seen as the new free TV market, and AVOD actors have tried to mimic the TV experience for the user, while multiplying
distribution partnerships with connected devices providers and smart TV manufacturers to increase their reach. According to Philipp Rotermund, the TV screen is now synonymous with greater movie consumption, higher attention from the audience and an increasing flexibility for the advertisers in terms of insertion.
For Olivier Jollet, Senior Vice President for Emerging Business for ViacomCBS EMEA, AVOD is an opportunity for broadcasters and pay TV operators to win back a share of their revenues lost to  SVOD players in the last decade, filling the gap between the legacy TV inventory and the digital inventory. The vision of Pluto TV is to provide a seamless TV experience, to "retain the users in the living room" as Olivier Jollet stated during our AVOD panel.
In order to do so, the AVOD platforms have heavily invested in developing their own dynamic ad-insertion systems, to avoid the buffering issues, which can fit perfectly within the content to offer this seamless TV experience.
The combination of digital inventories on the TV screen and the increases in uses within AVOD ecosystems have been seen as an opportunity for numerous smaller advertisers to reach users, with lower advertising budgets. According to Jacinto Roca, CEO of Rakuten TV, which recently launched its own AVOD offer in addition to its existing TVOD platform across Europe, advertisers are looking for platforms that are able to build targeted campaigns for the brands, as young audiences do not watch traditional TV anymore. AVOD is then a solution for reaching those audiences, for a minimal advertising budget.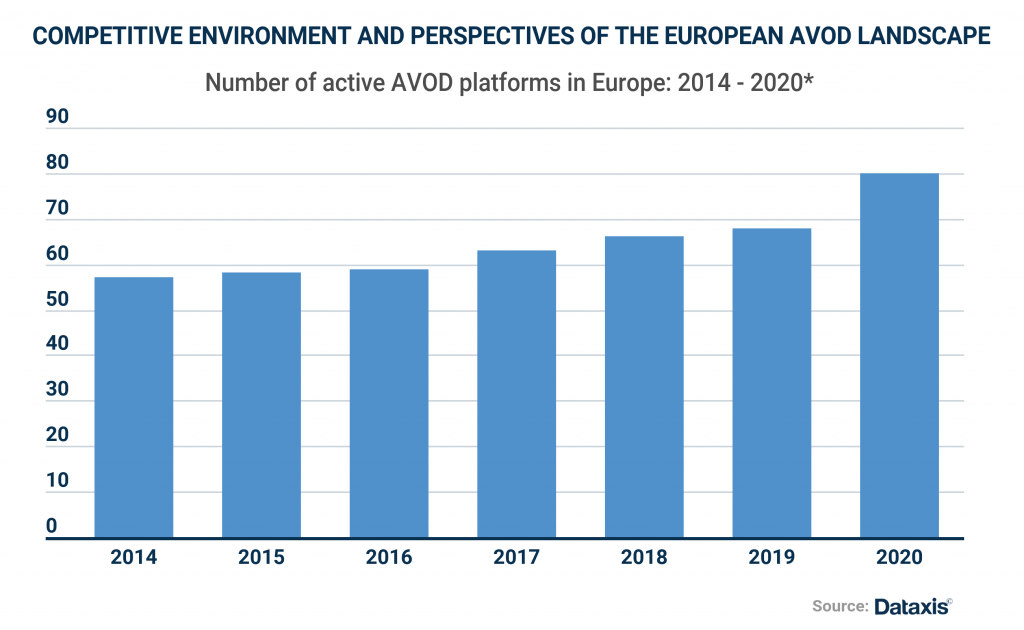 The increasing competition among European players has also been synonymous with more diversified content offers and business models. From the traditional catch-up services provided by the broadcasters, to the pure-player AVOD offers launched by major movie studios such as Peacock, numerous business models have emerged, combining SVOD, TVOD, e-commerce, user-generated content, edited channels… leading to an overwhelming variety of content and offers available on the market.
But behind this fierce competition, AVOD revenues have mainly remained captured by a single actor: as of 2019, we estimate that Youtube generated almost 70% of the AVOD revenues in Europe. However this massive lead is expected to be challenged in the next few years by the other players.
According to Clément Cezard, Chief Business Development Officer of Molotov, a French OTT service which recently launched its own AVOD offer, if Europe is a bit behind the US in terms of adoption, there is still a lot of space remaining for AVOD, and the European players are bridging the gap. The key is to develop a global presence on desktop, tablets, smart TVs and mobiles, while keeping the TV central for the user experience. On the tech side, this distribution strategy needs to come with simple and high quality UX, combined with dynamic ad-insertion through server encoding.
For Olivier Jollet, there is no doubt that some actors will disappear, and this is why partnerships are key, both with content providers, broadcasters, smart TV manufacturers and tech suppliers. This can be more easily achievable nowadays, as CEOs and top executives of media companies are becoming more open to AVOD, leading to increased amounts of content available for AVOD usages.
Regarding content, Jacinto Roca expects a growing number of original productions to enter the market directly via AVOD, with interesting opportunities to partner between the AVOD market and the movie industry.
On the other hand, if some consolidation can happen - due to a limited time available for content consumption and limited budgets Philipp Rottermund estimates that AVOD will remain the adequate format for niche contents to thrive, which could lead more SVOD actors to pivot towards AVOD.
The catch-up session of our webinar 
PURE PLAYERS IN AVOD IN 
EUROPE is available 
here
. Our data about the AVOD markets in Europe, North America and Latin America are available on 
dataxis.com