Webinar
Addressable TV : a new Dataxis market research offer
Discussion Topics
Addressable TV is becoming a topic more and more important for Broadcasters. The revenues that they are generating through advertising have been flat for the past years, due notably to a harsh competition from digital platforms that can address more precise targets. Addressable TV is becoming a new revenue stream to capitalise on the digital advertising market for traditional TV actors. During the webinar, we will discuss about our new advertising offer and share our last datasets about strategies deployed by Broadcasters, Pay TV operators, OTT platforms and Connected TV manufacturers.
The flat growth in terms of revenues from the broadcasters implies the development of new revenues streams : Addressable TV
What kind of companies do addressable TV?
• FTA broadcasters
• Pay TV operators
• OTT
• Connected Screens
Dataxis's new market research offer will cover the above topics and our Sales Director will share our last publications.
We will conclude the presentation by sharing the publication plan related to the above topics.
Speakers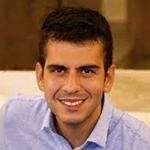 Gregoire Laroque
Global Sales Director
Dataxis